40 Years of Air Waves: Looking back on our 2021 Celebration
40 Years of Air Waves: Looking back on our 2021 Celebration
2021 was a very exciting year for our team at Air Waves. This was the year that we celebrated the beginning of our partnership with Hybrid Apparel and the year we celebrated 40 years in business. Instead of having just one party, we decided to create opportunities to celebrate throughout the entire year!
On a monthly and quarterly basis, we would hand out cash prizes for employees. Each month, a randomly drawn employee would win a $40 prize and quarterly one lucky winner received $400! We also had our annual holiday party before the normal Q4 rush. This party included a catered lunch, games and many more prizes ranging from Chipotle gift cards, to AirPods, to TVs and more! Each employee that had been with Air Waves for at least a year at that point also received a custom Adidas track jacket personalized with the employee's name, the Air Waves logo and their years of service to the company.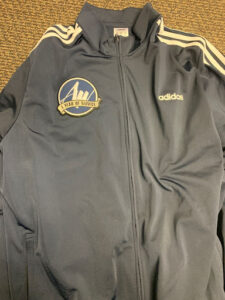 Recapping the 2021 Year-Long Celebration
We asked a few team members to share their favorite part of celebrating 40 years in business with Air Waves. Here is what they had to say:
"My favorite part was seeing who won the monthly prizes – it was always a mystery until they were announced and it was great getting to celebrate with the winner!"
"I really enjoyed getting to design the 40th-Celebration t-shirts that the whole company received. It was fun to show up to work each day to see who was wearing the design that I created!"
"I enjoyed the team camaraderie throughout the year with various celebratory lunches and the special holiday party."
Here's to 40 More Years!
We are excited to have 40 years under our belt and looking forward to the next 40, we want to thank our team past and present who have helped us reach this milestone!