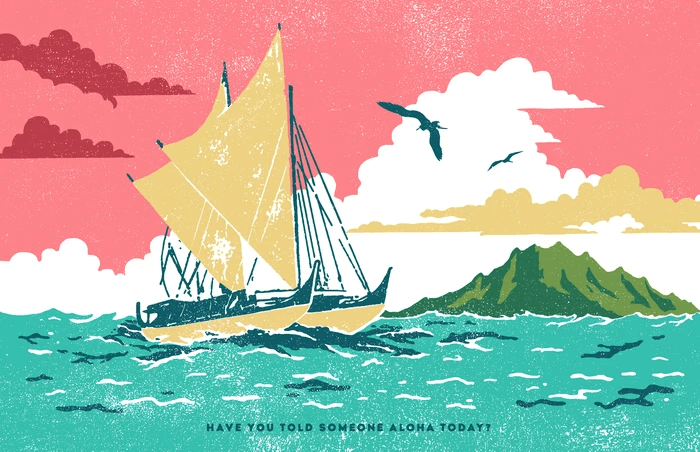 Customer Spotlight: Project Aloha
Customer Spotlight: Project Aloha
In 2012, Project Aloha was started by Hawaiian artist, Michael Paz, as a challenge to create a new ALOHA themed design every day for the entire year. Soon, Paz began sharing and printing his designs on t-shirts for family and friends. It didn't take long for word to spread, and soon, customers and stores were lining up to buy his products.
As admiration and appreciation for the brand and the authentic Hawaiian-inspired designs increased, Paz found that a few glaring issues with his supply chain were hurting the business.
"I have many designs that I've designed throughout the years and I want to print as many as I can. As I tried to increase my online business I felt like adding more designs to purchase was the way to go. I have done traditional screen printing for years but every time I want to add more art I'm running into inventory issues and having to meet minimums." – Michael Paz
Through conversation with Air Waves, Paz shared that high overhead costs, a lack of inventory and declining wholesale orders from brick and mortar stores were starting to weigh heavily on Project Aloha.
"Without a healthy wholesale business that has been hit hard during the last year, I've decided to try DTG. I downloaded the Air Waves app earlier this year and I've already added more designs in a short amount of time than I ever have. The process is shockingly simple, I honestly thought it would be way tougher. Leaves me more time to design without having to chase tees all over town." – Michael Paz
Using Air Waves' Shopify App, Project Aloha was able to seamlessly switch production and fulfillment to Air Waves, immediately alleviating the supply chain strains.
Now, six months later, Project Aloha is selling apparel on-demand, allowing them to offer an even wider variety of products and granting them the creative space to release new designs and product lines when and where the trends present themselves.
Is Air Waves On Demand Right for You?
Interested in seeing if this process and our team would be a good fit for your supply chain? Learn more about On Demand Printing and contact the Air Waves team today.